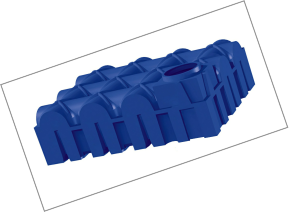 Whether  there  is  too  much  or  too  little  rain,  why  not  invest  in  a  large  capacity F Line tank with one of our rainwater harvesting systems. Use rainwater off the roof for toilets, washing machines and the garden and you could save 50% on water bills.
Why buy this tank?

The F-Line bigger 5000 litre is a high quality, rotationally moulded, one piece rainwater tank that can be installed without the need for concrete, thereby minimising installation costs and supported by our long term 25 year tank guarantee.
    Minimal installation depth
    Easy and quick to install
    Small excavation pit and little earth excavation preserves your garden
    Ideal for installation in new or existing properties
    Can be installed in ground water up to tank shoulder
    Price includes Mainland UK delivery. 
Easy to install

The F-line flat tank can be installed into much higher water tables than a standard round tank. If you don't know what your water table will be like in the winter, you're safer to install a flat tank. The F-Line tanks are flat and the installation depth is 60% less than other rainwater tanks.
The excavation can be up to 70% less, meaning little earth excavation, easy handling and less cost for you! The small excavation pit is easily filled in and your garden will look just like it did before.
The tank is delivered with the filter, calmet inlet and overflor siphon pre installed for ease of install on-site.
As standard the tank is supplied with a 635mm shaft that fits on the circular opening on top of the tank. There is also a perdestrian lid that fits onto the shaft. The shaft can be cut down but 400mm should this be required due to the drainage depths. There is also a 600mm extension sleeve available should you need to go deeper and a driveable shaft and lid.
Technical Details
| | | | | |
| --- | --- | --- | --- | --- |
| Size | 1500 | 3000 | 5000 | 7500 |
| Weight Kg | 80 | 170 | 250 | 310 |
| Length | 1200 | 2400 | 2960 | 3340 |
| Width | 2400 | 2400 | 2220 | 2310 |
| Overall Height* | 1015 - 1415 | 1015 - 1415 | 1350 - 1750 | 1415 - 1815 |
| | | | | |
| Ground to Invert** | 335 - 735 | 335 - 735 | 335 - 735 | 330 - 730 |
| | | | | |
| Invert to Outlet | 162 | 162 | 162 | 162 |