The Backup in a Box is our simple to fit mains water backup unit. The unit will supply approximately 250 litres into the rainwater storage tank should the tank run low.
The Backup in a Box is normally used in a Direct Feed System where there is a submersible pump in the tank that is feeding directly to the appliances. Instead of the tank running dry the Backup in a Box will always ensure you have sufficient water.
How does the Backup in a Box work?
• Rain falls onto the roof, down the drain pipes, filtered and stored preferably in an underground tank. The water can be used for toilets, washing machines and outside use which can be a 50% saving on mains water.
• In a direct feed system there is a pressure sensitive pump in the underground tank.
• When a toilet is flushed, the pump will register a drop in pressure and start pumping. When the cistern is full, the pump will rebuild the pressure within the pipes and shut itself down. The pump will run every time there is a demand for water.
• The Rain Backup® in a Box will sense if the rainwater level becomes critically low. It will automatically allow a measured quantity of mains water into the tank, ensuring your appliances are never without water. The system does NOT fill the tank – Simply topping it up with around 250L of water, in the hope that it will rain before the system is needed again.
• Using an electronic level sensor  to detect when water is at a critical level.
• When the sensor is activated, a solenoid valve will open in the control unit, (mounted within the home) allowing mains water to enter the tank.
• Audible alarm to warn if water is constantly running.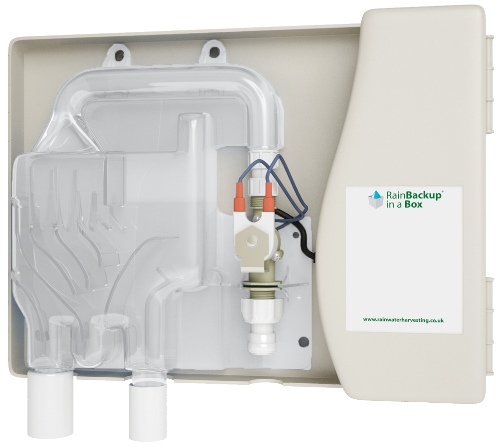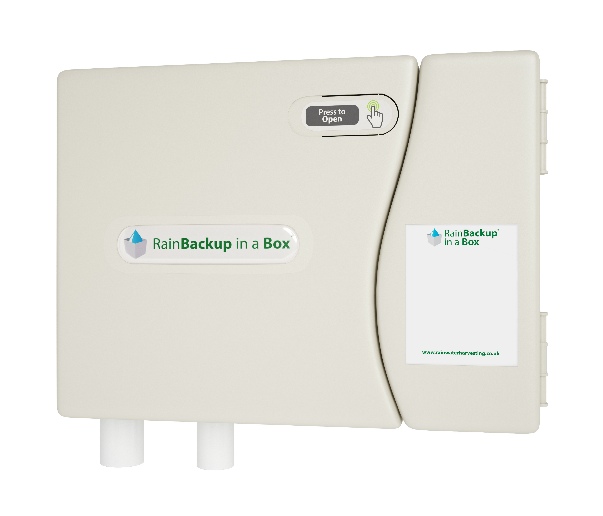 Making sure you are protected!
WRAS Approval is what your water inspector looks for. If a product has been WRAS Approved the inspector has the confidence and knowledge that the product has undertaken an intense quality inspection and rigorous testing. WRAS ( Water Regulations Approval Scheme ) is made up of all of the Water Authorities within the UK.
The WRAS Approval number for the Backup in a Box is 2006006.