£1,570.00 – £1,999.00 Ex VAT
F-Line Flat Tank 3000 litre underground garden rainwater harvesting system tank. The unique F-Line flat shallow dig tank, supplied ready for use as a garden rainwater harvesting tank. Collect and store cooled rainwater for your valuable garden plants or build a kit for household use.
.
Trade and Self Build discounts available. Call 01733 405111 Option 1
Email to a friend
Description
F-Line Flat Rainwater Tank 3000 litre shallow dig underground tank with accessory options.
1. Our Rainwater Harvesting Systems are based on the highest quality, rotationally moulded, one piece tanks, installed without the need for concrete, thereby minimising installation costs and supported by the manufacturers 25 year guarantee.
2. Minimum installation depth
3. Easy and quick to install
4. Small excavation pit and little earth excavation preserves your garden
5. Ideal for installation in new or exisiting properties
6. Can be installed in ground water up to the shoulder of the tank body
7. Market leaders in the Rainwater Harvesting Domestic Market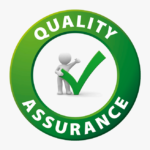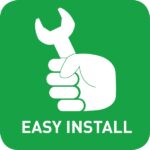 The F-line flat tank can be installed into much higher water tables than a standard round tank. If you don't know what your water table will be like in the winter, you're safer to install a flat tank.
The F-Line tanks are flat and the installation depth is 60% less than other rainwater tanks. The excavation can be up to 70% less, meaning little earth excavation, easy handling and less cost for you!
The small excavation pit is easily filled in and your garden will look just like it did before.
Using your digger to lower the tank into the hole is incredibly easy because of the square / rectangular hole. The 1500 litre shallow dig tank has even been known on several occasions to be located in the hole by two people with no lifting equipment.
If you have also included the factory fitted filter, calmed inlet and overflow siphon you simply have to connect your inbound and outbound pipes to the 4″ locator pipes protruding from the tank and away you go!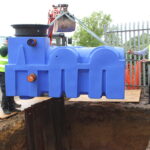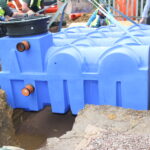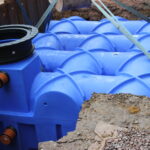 Which shaft and lid to use?
There are two types of shaft with the F-Line Shallow Dig Tank.
The 235mm shaft is usually selected if you need to go as shallow as possible in the ground. Bear in mind through that you need to ensure that the drainage pipe levels will work with such a shallow invert / outlet on the tank.
The 635mm shaft is our standard shaft supplied with the tank. The shaft can be cut down by 400mm which gives you the flexibility on site of ensuring you have the correct levels.
Both the 235mm and 635mm shaft come with a Pedestrian Lid. This lid is used in areas where there is no vehicle traffic i.e in the garden area. This lid is suitable for ride on lawnmowers but not tractors!
If you need to locate the tank in your driveway then you will need to choose the driveable shaft and steel lid. Due to the earth coverage required over the tank and the additional loading of a vehicle you cannot cut down this shaft.
You must choose a shaft and lid for the tank from the options above.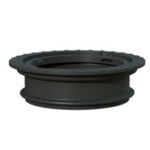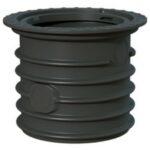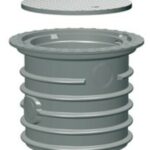 The F-Line Tank comes with the option of an In Tank Filtration pack. The set has all the components needed to filter the rainwater as it enters your tank and drain any surplus to your overflow.
The fine filter filters dirt particles, before they reach the tank. The filter cartridge can simply be taken out for maintenance and can be easily cleaned.
All the parts are factory fitted ready for connection. To buy this option see the drop down menus above or call 01733 405111.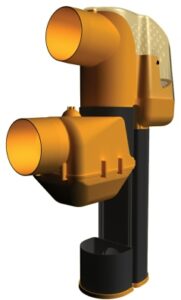 Tank Dimensions
F-Line Shallow Dig Tank Dimensions
Excavation Dimensions
F-Line Shallow Dig Tank Excavation Dimensions
*Overall height allows for 100mm compacted aggregate
**Using a VS60 (635mm Shaft)
The overall height difference above is because up to 400mm can be cut off the 635mm shaft on site so as to achieve your exact invert level.
System Delivery
DELIVERY OF RAINWATER HARVESTING SYSTEMS
We try where possible to deliver using our own vehicle but in the event of either too greater distance or a booked calendar we may have to deliver using a third party haulier. The delivery is kerbside and the offloading is the responsibility of the customer. We suggest to organise the delivery to arrive whilst you have the digger on site to assist with offload. Our shallow dig tanks can be lifted off the vehicles by hand providing there are enough bodies on site.
The systems are held in stock at our Peterborough warehouse and we normally operate on a 7-10 delivery from receipt of order.
If you have any problems to accept kerbside deliveries or access issues please contact a member of our team on 01733 405111.