The Graf Carat tank is the largest tank of its kind in the world to be manufactured by injection compression moulding.
This technique provides the tank with unbeatable stability and ensures that each component is produced with the highest accuracy.
The tank comes in two halves for assembly onsite. Once this was an extremely popular tank but since the introduction of shallow dig tanks has become less popular.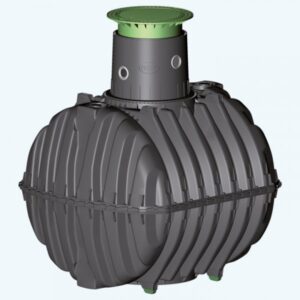 Store rainwater ready for use under your garden
Lifting kit not necessary – can be man-handled onto the site
Exceptionally strong but light two piece Duralen moulding
Time tested and backed by a 15 year manufacturer warranty
Tank construction allows for manoeuvre into less accessible locations -even though doorways
Components precision made for fast assembly
| | | | | |
| --- | --- | --- | --- | --- |
| Size | 2700 | 3750 | 4800 | 6500 |
| Weight Kg | 120 | 150 | 185 | 220 |
| Length | 2080 | 2280 | 2280 | 2390 |
| Width | 1565 | 1755 | 1985 | 2190 |
| Overall Height | 2010 | 2200 | 2430 | 2710 |