£1,321.00 Ex VAT
Rainwater Harvesting water butt system to suit small to medium size garden or allotment. Premium quality, British made modular wall tank and pump garden system for 1600 litres of rainwater storage. Collect, store and distribute rainwater in your garden.
Email to a friend
Description
Rainwater Harvesting 1600 litre tank water butt system to suit small to medium size garden. The British manufactured tank and pump are tried and tested for long lasting, reliable performance in the variable British climate. This garden system includes the components for collection, storage and distribution of rainwater around the garden.
2 x 800 Litre Wall tank or butt. The tanks feature brass connection points and a brass tap. Uniquely, the tank has an inspection hatch on the top that can be opened to lower in a submersible pump or to powerwash out the tank. Similar models do not have this hatch.
Hydroforce Pump. This pressure sensitive clean water pump will deliver rainwater on demand when used with a trigger hand spray on a hose. It will deliver 3.5 to a 35 metre head. This pump is no lightweight and will serve you well. It has a host of features to protect the pump motor from dry run and water ingress.
The 3P Filter-Collector is a proven downpipe collector. We have sold this filter for 5 years now and it has proved a highly efficient rainwater filter-collector for installation on most downpipes. The filter cleanses the rain before diverting it sideways into the tank while leaves, moss and debris continue down the drain. When the tank is full, the Filter-Collector automatically sends excess rainwater to the drain. The Filter-Collector's unique removable filter cartridge can be taken out in seconds for cleaning, allowing easy maintenance.
Modular. You can increase capacity easily as additional tanks can be linked using a sturdy 32mm reinforced hose. The tank is made of robust, frost resistant PE Polyethylene and is available in 4 finishes: Green, Marbled Green, Yellow, "Sandstone" or Black.
The tank polymers are UV stabilized and have a 10 year warranty from manufacturing defects.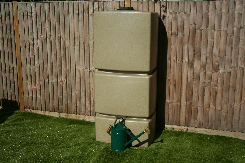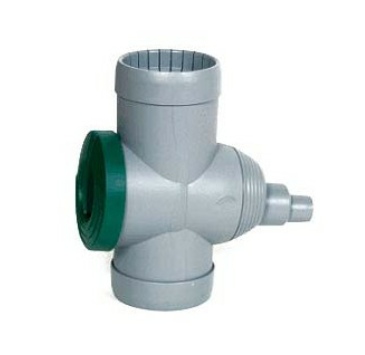 System Includes:
* 800 litre tank with dimensions: 820mm x 630mm x 1790mm
* Hi-Flow Brass tap (3/4″) for faster filling of watering cans.
* RWH-HYD03 HydroForce 800watt Pump. Fully waterproof and submersible.
* Pump to Tank hose kit 25mm to 25mm
* Brass pump connection point.
* Store your pump safely away when not needed.
* 3P Downpipe Filter-Collector for optimum rainwater quality.
* Downpipe Filter to Tank connection kit
System Delivery
DELIVERY OF RAINWATER HARVESTING SYSTEMS
We try where possible to deliver using our own vehicle but in the event of either too greater distance or a booked calendar we may have to deliver using a third party haulier. The delivery is kerbside and the offloading is the responsibility of the customer. We suggest to organise the delivery to arrive whilst you have the digger on site to assist with offload. Our shallow dig tanks can be lifted off the vehicles by hand providing there are enough bodies on site.
The systems are held in stock at our Peterborough warehouse and we normally operate on a 7-10 delivery from receipt of order.
If you have any problems to accept kerbside deliveries or access issues please contact a member of our team on 01733 405111.