£1,798.00 Ex VAT
Graf Carat 3750 litre underground rainwater storage tank designed for installation below ground in commercial or residential premises.
Email to a friend
Description
Graf Carat 3750 litre underground rainwater storage tank designed for installation below ground to serve commercial or residential premises.
1. Store rainwater ready for use under your garden
2. Lifting kit not necessary – can be man-handled onto the site
3. Exceptionally strong but light two piece Duralen moulding
4. Time tested and backed by a 15 year manufacturer warranty
5. Tank construction allows for manoeuvre into less accessible locations -even though doorways
6. Components precision made for fast assembly
7. Buy if you want to build your own system – pumps, filters pipes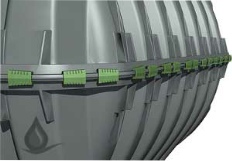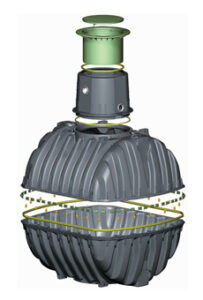 The Graf Carat tank is the largest tank of its kind in the world to be manufactured by injection compression moulding. This technique provides the tank with unbeatable stability and ensures that each component is produced with the highest accuracy. Graf have invested €20m in their factory near Freiburg for the Carat range, introduced in early 2007.
Like the Graf Hercules, the Carat comes in two halves so you can carry it through tight spaces even dorways.. (and so we can stack many of them on one pallet for bulk transport).
A centering bolt on the tank flange makes assembly accurate. The quick knock-on connections and the patented seal laboratory tested for 25 years ensure there are no leaks between the two sections… and yet you can disassemble it if you like. The material used is a PE variant called Duralen.
1. Big, strong 2 piece tank for fitting underground
2. Carat assembly kit including the seals
3. Pedestrian load cover and tank sleeve (green) Height 750-950 mm. Maximum tilt 5%. Child safety lock.
4. Optional upgrade to a Maxi sleeve giving an extra 100mm of adjustment (the one in the middle)
5. Optional upgrade to a vehicle load cover (grey)
6. Optional additional extension sleeve for even deeper sites  (the concertina thing in grey)
Carat Tank Dimensions
Carat Tank Dimensions
* The half height is a useful dimension if your site is at the back of a house and you have to get the tank through the doors of the house. The Carat is shipped in two halves with the turret separate. By tipping the half tank on its side you and a colleague can walk it through a narrow door. Your door width needs to be marginally wider than the half height shown.
System Delivery
DELIVERY OF RAINWATER HARVESTING SYSTEMS
We try where possible to deliver using our own vehicle but in the event of either too greater distance or a booked calendar we may have to deliver using a third party haulier. The delivery is kerbside and the offloading is the responsibility of the customer. We suggest to organise the delivery to arrive whilst you have the digger on site to assist with offload. Our shallow dig tanks can be lifted off the vehicles by hand providing there are enough bodies on site.
The systems are held in stock at our Peterborough warehouse and we normally operate on a 7-10 delivery from receipt of order.
If you have any problems to accept kerbside deliveries or access issues please contact a member of our team on 01733 405111.