£3,387.00 – £3,756.00 Ex VAT
F-line Flat Tank 7500 litre underground domestic rainwater harvesting system kit with mains water backup. The unique F-Line flat tank, supplied complete as a kit for use as a home and garden rainwater harvesting system. Collect, filter, store and pump for your valuable garden plants and to flush toilets. Mainland UK delivery included
.
Trade and Self Build discounts available. Call 01733 405111 Option 1
Email to a friend
Description
F-Line Flat Tank 7500 litre with Mains Water Back Up system includes a 7500 litre underground tank, pre fitted in tank filter, overflow and calmed inlet kit, Hydroforce Series 4 submersible pump and the accessories needed to deliver clean rainwater to a garden tap and to flush toilets. Some standard external pipework and connectors will be needed but are not included in the kit as the location of the system will determine the amount of pipework required.
1. Our Rainwater Harvesting Systems are based on the highest quality, rotationally moulded, one piece tanks, installed without the need for concrete, thereby minimising installation costs and supported by the manufacturers 25 year guarantee.
2. Minimum installation depth
3. Easy and quick to install
4. Small excavation pit and little earth excavation preserves your garden
5. Ideal for installation in new or exisiting properties
6. Can be installed in ground water up to the shoulder of the tank body
7. Market leaders in the Rainwater Harvesting Domestic Market
8. UK manufactured mains water backup unit ( Backup in a Box )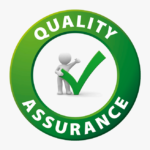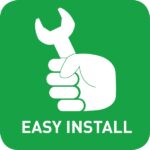 What is the Backup in a Box

The Rain Backup in a Box® is WRAS Approved ( WRAS No. 2006006 ) and is fitted inside the building where the occupiers can see and hear it.
WRAS Approval demonstrates compliance as it is granted directly by representatives of the water suppliers. It is accepted by every water supplier in the UK.
The Rain Backup in  a Box is a simple mains top up device that puts about 250 litres of mains water into your underground tank where the water level runs dry.
Limitation on Use: Note that the Rain Backup in a Box® is intended for domestic and light garden use. If you run two garden taps with a high power pump (like the HydroForce, Steel Pumps or Divertron 1100 watt pumps) then the outflow of water is higher than the inflow from the backup device. When the underground storage tank is empty the pump will have no water and its dry-run-protection will turn it off. Some pumps need resetting at the mains in this case which is tedious. Most users get round this issue by having mains water taps available alongside the rainwater outlet so that they can switch to mains for garden use when the underground tank is empty. The Rain Backup in a Box® will continue to keep up with demand in the house for toilets and washing machine.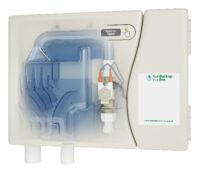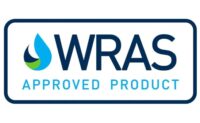 What's in the standard kit?
Shallow Dig F-Line Tank

635mm F-Line Shaft
Pedestrian F-Line Lid

Hydroforce Pump

Rain Vantage Filter*

25m x 25mm RWH Pipe
Rainwater Label Pack

Rain Backup in a Box

Delivery to Mainland UK

*Please note that the Rain Vantage Filter also incorporates the calmed inlet and overflow siphon. This is factory fitted to reduce install time on site.
The F-line flat tank can be installed into much higher water tables than a standard round tank. If you don't know what your water table will be like in the winter, you're safer to install a flat tank.
The F-Line tanks are flat and the installation depth is 60% less than other rainwater tanks. The excavation can be up to 70% less, meaning little earth excavation, easy handling and less cost for you! The small excavation pit is easily filled in and your garden will look just like it did before.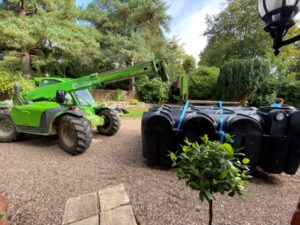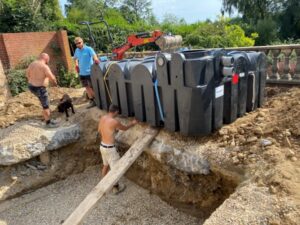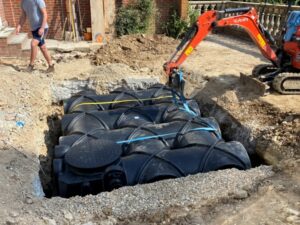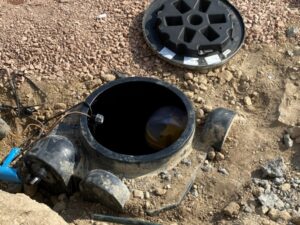 High Quality Submersible Pump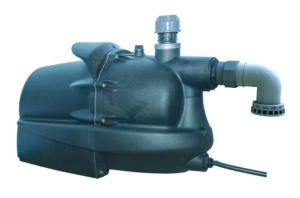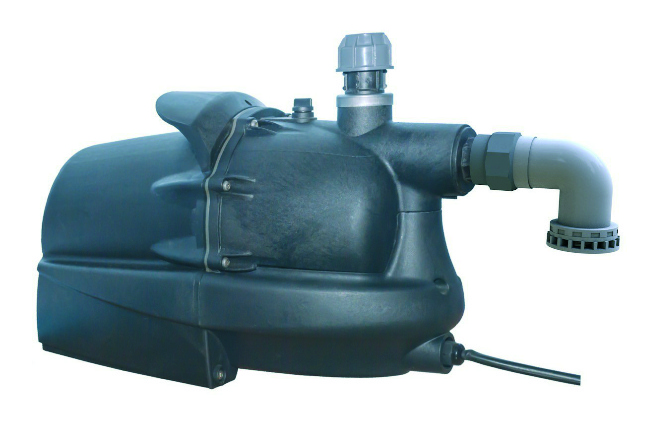 HydroForce ™ Rainwater Harvesting Clean Water Pump Series 4 is a submersible pressure sensitive rainwater tank pump – electronically controlled, centrifugal roto-dynamic with no reciprocating parts. Built-in non-return valve and double dry-run protection.
Manufactured in the UK and designed for rainwater harvesting systems.
Rainwater Harvesting HDPE Pipework
External HDPE Rainwater Pipe included. It is important to identify a source of a water supply. Untreated rainwater is not for human consumption and so water companies are recommending (and in some cases requiring) that Black and Green HDPE pipe is used for piping rainwater from the tank to the point of use – eg. garden tap.
The point of use should be clearly labelled to show that rain water is the source. We include 25mm black and green hdpe pipe and labels with this kit with the option to buy further rolls of pipe.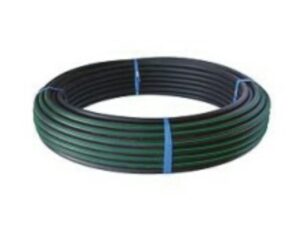 Backup in a box PLUS
The Backup in a Box PLUS does everything the standard version does but also has the following benefits:
For further information please click below. A new window will open.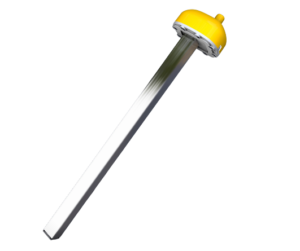 Want to look at a different size?
Weight : 310 kg
Length : 3340mm
Width : 2310mm
Overall Height* : 1415 - 1815mm
Ground to invert** : 310 - 710mm
Invert to outlet : 162mm
Excavation
Length : 3740mm
Width : 2710mm
Overall Height* : 1515 - 1915mm
*Overall height allows for 100mm compacted aggregate
**Using a VS60 (635mm Shaft)
The overall height difference above is because up to 400mm can be cut off the 635mm shaft on site so as to achieve your exact invert level.
System Delivery
DELIVERY OF RAINWATER HARVESTING SYSTEMS
We try where possible to deliver using our own vehicle but in the event of either too greater distance or a booked calendar we may have to deliver using a third party haulier. The delivery is kerbside and the offloading is the responsibility of the customer. We suggest to organise the delivery to arrive whilst you have the digger on site to assist with offload. Our shallow dig tanks can be lifted off the vehicles by hand providing there are enough bodies on site.
The systems are held in stock at our Peterborough warehouse and we normally operate on a 7-10 delivery from receipt of order.
If you have any problems to accept kerbside deliveries or access issues please contact a member of our team on 01733 405111.