Embracing Change: Weather Patterns in the UK and the Power of Rainwater Harvesting
Climate change has cast its undeniable shadow on the weather patterns in the United Kingdom. From increasingly unpredictable rainfall to extreme weather events, the impacts are being felt nationwide. However, amidst the challenges posed by these changing weather patterns, there is a beacon of hope: rainwater harvesting. In this blog, we will delve into the changing weather trends in the UK and explore how rainwater harvesting can offer a sustainable solution for conserving water and mitigating the effects of climate change.
1. Understanding Changing Weather Patterns in the UK:
The UK has experienced a series of weather changes in recent years, driven by climate change. Winters are becoming milder, summers are hotter, and extreme weather events, such as heavy rainfall and flooding, are on the rise. These shifts in weather patterns are impacting everything from agriculture and water resources to the overall well-being of communities.
2. Rainwater Harvesting: A Sustainable Solution:
Rainwater harvesting offers a viable and sustainable solution to address some of the challenges presented by changing weather patterns. The process involves capturing and storing rainwater runoff from rooftops and other surfaces, allowing it to be utilized for various purposes, both domestic and commercial.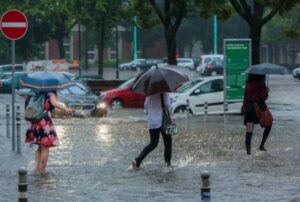 3. Water Conservation and Reduced Strain on Resources:
As the UK experiences periods of intense rainfall followed by drought, rainwater harvesting can help conserve water during wetter months. Collected rainwater can be stored and used during dry periods, reducing the reliance on traditional water sources and alleviating pressure on water supply systems. This reduces the strain on water resources and helps safeguard against potential water scarcity issues.
4. Mitigating Flooding and Stormwater Management:
Rainwater harvesting systems also play a crucial role in managing stormwater runoff during heavy rainfall events. By collecting rainwater, the runoff is redirected away from overwhelmed drainage systems, reducing the risk of flooding and erosion in urban areas. This can help protect communities and infrastructure from the damaging effects of extreme weather events.
You can read more about our Rain Activ SuDS Solution by CLICKING HERE
5. Supporting Agriculture and Green Spaces:
Rainwater harvesting is not only beneficial for urban areas but can also be a game-changer for agricultural practices and green spaces. By using rainwater for irrigation, farmers can optimize water usage, particularly during dry periods, leading to more sustainable and efficient crop production. In urban environments, collected rainwater can be utilized for watering parks, gardens, and green roofs, enhancing biodiversity and promoting environmental resilience.
6. Cost-Effective and Environmentally Friendly:
Implementing rainwater harvesting systems can be cost-effective in the long run, especially for large-scale users like businesses and institutions. It reduces water bills and saves energy required to treat and distribute water. Moreover, rainwater is naturally soft and devoid of the chemicals present in tap water, making it ideal for non-potable uses such as flushing toilets and washing vehicles.
As the weather patterns in the UK continue to change, it is imperative that we embrace innovative solutions to combat the challenges posed by climate change. Rainwater harvesting stands as a beacon of hope in this regard, offering a sustainable and environmentally friendly approach to water conservation and management. By capturing and utilizing rainwater, we can reduce our reliance on traditional water sources, mitigate flooding risks, and support agricultural and green spaces. Embracing rainwater harvesting is not only a step towards a more sustainable future for the UK but also a testament to our commitment to safeguarding our planet for generations to come.