Collecting rainwater for your home – How to get started in 5 steps
The rain that falls on your house is a free water supply, all you have to do is tap into it. In this guide we'll look at what you need to do to start collecting rainwater from your roof, how to safely store it and what you can do with it around your home.
1. How will you use your rain?
The first step to collecting rainwater is deciding how you want to use it around your home, as this will determine what kind of rainwater harvesting set up you need.
If you have a small garden and you just want to fill a watering can to water your plants, then a simple rainwater butt is a great option. If you have a larger garden and want to run a hose pipe off your tank, then a rainwater harvesting system is what you need, complete with a larger tank, pump and piping to an outdoor tap.
If you want to use your rainwater to flush toilets and wash clothes, then a rainwater harvesting system with a mains water backup unit is the right choice. Each of these options comes at a different price tag, with a system costing significantly more than a water butt, however the carbon and financial savings are much greater too.
2. What's your budget?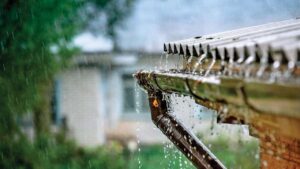 At this point, if a rainwater butt is the right choice for you, then you can go buy a space saving model and install it on your shed or garage with little difficulty or expense. Moving forward, this guide will assume you want to collect rainwater using a rainwater harvesting system.
Before even thinking about above or below ground (we'll come on to that) you need to get a clear idea of what you want to spend. The average cost of a rainwater harvesting system in the UK is around £3,000, including the tank, pump, control system and essential connections.
Beyond this, you'll need to factor in around £3,000 on average for installation on a domestic system. So you're at pretty much £6,000. Of course this is the average figure, so an above ground tank feeding one outdoor tap will be a lot less to install, and a below ground system feeding toilets, washing machine and a tap will be more. For a full breakdown of costs, read our rainwater harvesting cost guide.
3. Above or below ground tank
This is about space predominantly. If you don't have a lot of room in your garden, then an underground tank allows you to create a storage space to collect rainwater without losing precious outdoor space. Additional benefits with underground are that it's out of the elements and protected from damage, however installation costs can be higher, unless you opt for a shallow tank – find out more about those in our shallow vs deep dig guide.
If you have the room and don't mind looking at a large plastic storage tank, then an above ground installation is cheaper, usually only requiring a concrete base to be created.
The amount you can collect can be larger with an above ground tank in the average household garden, but there is the risk of damage and weather. That said, our tanks are built to high standards.
4. Choose your tank size
Before you buy a system to start collecting rainwater, you need to know which size tank is right for your yield and usage. You can use our rainwater harvesting calculator to enter your property's dimensions and find out the perfect size tank for your system.
5. Delivery and installation
Now you know the right system for your property (we can help you with that if needed, call us), the final consideration is delivery and installation.
You'll need to arrange your delivery to coincide with your installation, as otherwise your tank could be left on a front lawn or side path with no way of moving it until install day. It's worth reading our rainwater harvesting tank delivery guide to get clued-up on everything you need to consider.
Installation of the majority of our systems can be completed by a competent professional plumber, so that's a good place to start when looking for an installer. And we're always on the end of the phone if they need support during the process.
Enjoy using your free rainwater!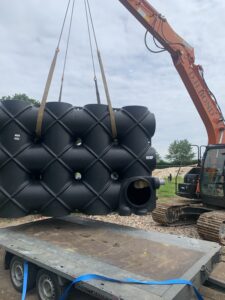 So there you have it, a quick guide to getting started collecting rainwater in 2022, either using your home, garage or shed. Check out our other guides on rainwater harvesting and get in touch if you need any support!