5 reasons why rainwater harvesting is important
There are many reasons to start harvesting rainwater, including financial, environmental, ecological and even community benefits. In this guide we'll look at the 5 big benefits of collecting rainwater off of your house, garage or shed and using it instead of mains water.
Why is rainwater harvesting important?
Rainwater harvesting is becoming increasingly popular as an easy way for homes and businesses around the world to reduce their reliance on mains pumped and treated water. In doing so, there's also a range of financial, ecological and even safety benefits that come from using rain before mains.
The reality is that most properties have 75% of what they need to harvest and use rainwater – a roof, gutters and downpipes. All that's needed is the final piece, somewhere to filter and collect the water ready to be pumped to where it's needed.
5 big benefits of harvesting rainwater
1. Collecting rainwater reduces your indirect carbon emissions
It takes electricity to collect and treat mains water and pump it to your house, all of which has a carbon cost. When you use natural rainwater that lands on your roof, it falls via gravity into your tank.
From there, a small amount of electricity is needed to then pump it to where you need it, with Gravity Fed Systems using the least amount of power.
The less mains water you need, the less electricity you need to be produced, therefore if you can use as much rainwater as possible, then you can increase your environmental sustainability.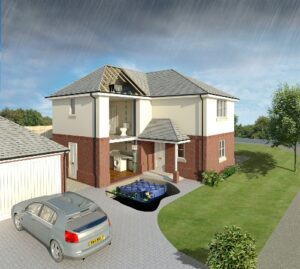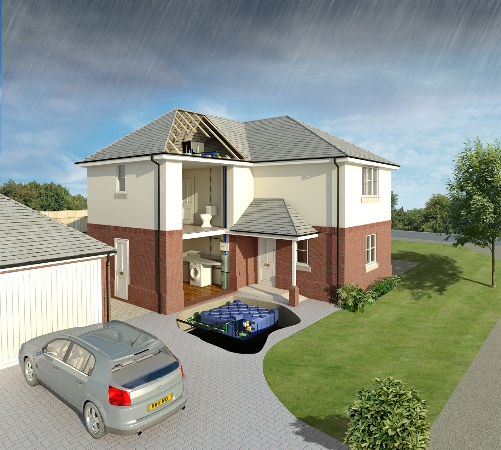 2. Using rainwater cuts your water bill
Obvious one this, but definitely worth mentioning. The more free rainwater you can use to meet the monthly demand in your property, the less mains you need, meaning your monthly water bills will be lower.
Not on a meter? You probably will be soon when the water market opens up!
3. In your home, rainwater is just better
If you choose to plumb your free rainwater supply into your home, then you can flush toilets with it, and that just makes so much sense. Why on earth are we flushing toilets with drinking water? It's mad. Especially in the UK where the average house has access to 70,000 litres of rain a year.
Also, when it comes to washing clothes, using rainwater is better in all kinds of ways. It can be better for your machine as it reduces limescale, it results in softer clothes and requires less detergent, which is great for the environment and your pocket.
You can find out more about washing clothes using rainwater, and five other great uses for rainwater in the home, in our 6 Tips On How To Use Rainwater.
4. In your garden, rainwater is better for your plants
No surprise, right? Using natural, cloud-filtered rainwater results in better plant growth than using chlorinated, treated mains water.
Quoting the RHS:
"Rainwater is better for your plants as it often has a lower pH. The minerals that are sometimes found in mains water, especially in hard water areas can raise the pH of your root zone, which can affect the nutrient availability. Rainwater is especially good for ericaceous plants such as azaleas."
5. Collecting rainwater helps prevent local flooding
You might not have to worry about this, but in reality it's something we all need to be more conscious of as the climate continues to change. Collecting rainwater off your roof stops it flowing into drains, sewers and natural water courses. In times of stormwater downpours, this lessens the load on water systems, reducing the risk of flooding.
Of course, your tank has a capacity and will overflow when full, but with more sophisticated systems, like our own Rain Activ System, excess rainwater is released slowly, known as attenuation, ensuring drains, streams and rivers are less stressed. Whether you experience flooding or not, by collecting rain you could be helping others in your community who are more at risk.
Now you know – Start harvesting today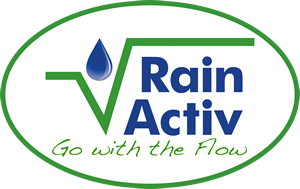 There you have it, 5 big reasons why rainwater harvesting is important for you, your pocket, your plants, the environment and potentially the community you live in. If you want to collect rainwater but aren't sure where to start, check out our guide to choosing the right tank for your property, and feel free to get in touch for friendly expert advice.