Rainwater harvesting tank – 5 steps to finding the right one for your property
Before handing over your hand earned cash for a rainwater harvesting tank, it's best to make sure you're buying the right one for your property. Far from a one-size-fits-all situation, rainwater tanks come in many shapes, types and capacities, so it's wise to consider these five factors before making a purchase. Let's get into it and by the end you'll have a much clearer idea of the right tank for your rainwater harvesting ambitions.
1. Scale - off your shed or off your roof?
First up, what kind of harvesting are you planning on doing? Do you want to collect off a shed or small garage, or the roof of your property? If you're collecting off a shed or garage, then an above ground water butt storage for the rainwater you can collect.
If you want to collect off your property's roof, then we're into rainwater harvesting systems with bigger tanks that can hold the larger volume of water you'll be harvesting. In this case, you'll want an underground or above ground tank with an electricity supply, pump, filter and piping to a tap for usage.
If you're wondering which to do, it comes down to budget and what you want to use the rainwater for (which we'll cover next). A water butt, delivered and fully installed can cost you from £150, while a rainwater harvesting system will be upwards of £5,000 delivered and installed.
Takeaway: Harvesting off a shed or garage, go for a water butt. Harvesting off your property: you need a larger tank and system.
2. What do you plan to do with your rainwater?
If you just want to fill a watering can and water some hanging baskets, then a butt works fine. However, if you want to use your rainwater as a replacement for a hose off the mains, then you'll need a pressurised system that includes a pump and pipework to a tap. Same goes if you want to use your rainwater to flush your toilets or wash your clothes, you need a full system.
Takeaway: If you just need to fill a watering can, go for a water butt. If you want to replace your mains hose pipe or supply your toilets, you need a larger tank and system.
3. How much can you collect?
Now you know where you're collecting your water from and what you want to use it for, you need to know how much you can harvest so you can choose the right size tank. This is called your annual rainwater harvesting yield, and 5% of your annual yield is the industry-accepted way of finding the right tank capacity for your property.
How to work out your annual rainwater yield:
1. First up, head to the Met Office and find the annual rainfall for your area.
2. Next, measure your roof area – this is where all of your rain will be collected – you can do this accurately enough by measuring the length and width of your property at ground level in metres. Then multiply the two numbers to give you the roof area in m2.
3. Times your roof area by 0.8 (because only 80% of your rain will make it down the gutters).
4. Times that figure by your annual rainfall in mm.
5. Times that figure by 0.95 (because not all the water that makes it down your gutters will make it through the filters and into your tank).
6. Finally, times that figure by 0.05 to give you 5% of your annual rainwater harvesting yield.
Takeaway: Work out your annual yield using the rainwater harvesting calculator above and you'll know the right size tank for your property.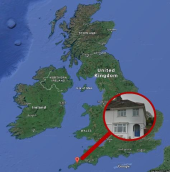 Got your annual yield? Whether you have or not, we can offer free advice and help you choose the right tank for your specific property, just get in touch.
Ok, so now you know your tank type and size, you need to decide whether you want to bury your tank underground or place it in a corner above ground. This is the last step, once you decide this, you're ready to buy.
When choosing between above and below ground, the main considerations are site access, site safety and space on site.
Site access
If you don't have the room, and can't install a tank anywhere more accessible, then a small above ground system might be better. You could daisy chain smaller tanks to still make the most of your large yield.
Space on site
Just the obvious really, if you don't have enough room for a large above ground tank on your site, then you'll need to go underground if you can. Likewise, if you don't have the space underground because your site isn't big enough, then it'll be a smaller above ground tank you need.
Site safety
Essentially, if you're thinking above ground – is there a safe place for it that doesn't obstruct access to something or isn't near any moving vehicles. If you're going underground, is there a spot without any utilities running through it that can be disrupted for up to a week without affecting the safety of the site for other users?
Takeaway: Whether you choose to go underground or above ground will depend on access, space and safety. Plus, whether you want to see the tank, or not.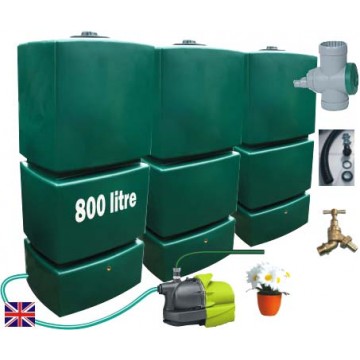 It's useful to consider delivery before you choose your tank for one main reason – cost. While we include shipping for free on all of our tanks (apart from to Highlands and Islands), many tank suppliers don't. You'll need to factor this into your system budget, as well as the cost of offloading.
Offloading
If you opt for one of our rainwater harvesting tanks, it'll be delivered by our own drivers and can be hand balled off. They only weigh 80 – 300 kg and can be carried by a group without needing heavy machinery.
However, with some suppliers it's often the case that you'll typically be expected to organise – and pay for – offloading yourself. This can mean hiring a forklift and an operator, so you'll need to factor that cost into your budget. We offer offloading service for an additional fee, so be sure to ask if you'd like us to help.
Takeaway: Delivery of your tank is chiefly a cost factor, just make sure you allow budget for both delivery and offloading if not included.
Now you know
Equipped with consideration of all of these five points, you should have a much clearer idea of which rainwater harvesting tank is right for your project. We're here to help if you have any more questions or are ready to order your tank, just get in touch.