Welcome to the launch of our brand-new exhibition stand at the NSBRC centre in Swindon!
We are thrilled to introduce our latest creation to the world, and we can't wait to see the excitement it generates among our clients and customers.
Our team has been hard at work designing and building this exhibition stand, and we are confident that it will help us showcase our products and services in the best possible way, our new exhibition stand is sure to make a lasting impression.
One of the key features of our new stand is its modern, eye-catching design. We have incorporated sleek, contemporary elements into the structure, such as bold graphics, faux foliage wall, clean lines and striking lighting effects. This not only helps our stand stand-out from the competition, but also reflects our commitment to innovation and creativity.
Of course, the most important aspect of any exhibition stand is its ability to effectively promote our brand and products. With our new stand, we have taken this to heart and made sure that it is optimized for maximum impact. From our product display and LED light show. We are confident that our new exhibition stand will help us connect with our target audience and build lasting relationships.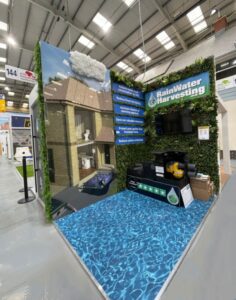 At the end of the day, we believe that our new exhibition stand reflects who we are as a company – dynamic, innovative, and dedicated to providing the best possible products and services to our clients. We can't wait to share it with you, and we hope that it will help us take our business to new heights.
Our stand is number 144. You can contact us by scanning the barcodes or ringing the Ring doorbell.
Thank you for your support, and we look forward to seeing you at on stand 144 at the NSBRC.