Description
19 Litre HY-PRO expansion vessel for any type of water pump and water heaters in white.
Hy-Pro expansion vessels are equipped with interchangeable membranes to ensure a long life, with a stainless steel flange making the vessels suitable for use with rainwater.
The membrane guarantees that air and water do not mix, eliminating the possibility of water logging through the loss of air to the system. When the pump starts, water enters the membrane using the whole capacity of the vessel.
When the pressure in the chamber reaches the maximum system pressure, the pump stops working. The tank is filled to it's maximum capacity. When water is needed again, pressure in the air side will push water into the system.
* Colour : White
* Capacity : 19 Litres
* Pre-Charge : 3 bar
* Diameter : 270mm
* Height : 390mm
* Connection : 3/4″G
* Maximum Operating Pressure : 10 bar
* Maximum Operating Temperature : 10 to +99 degrees C
* Factory Pre-Charge : 1.5 – 3 bar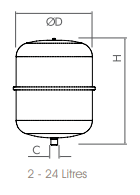 Carrier Shipments
This product unless delivered with a larger order is delivered by a parcel carrier. Most items are normally in stock and shipped out on a next day service providing the order is received by midday.