£312.00 Ex VAT
HydroForce ™ Rainwater Harvesting Clean Water Pump Series 4 is a submersible pressure sensitive rainwater tank pump – electronically controlled, centrifugal roto-dynamic with no reciprocating parts. Built-in non-return valve and double dry-run protection. Manufactured in the UK and designed for rainwater harvesting systems
Email to a friend
Description
HydroForce ™ Rainwater Harvesting Clean Water Pump Series 4 is a submersible pressure sensitive rainwater tank pump – electronically controlled, centrifugal roto-dynamic with no reciprocating parts. Built-in non-return valve and double dry-run protection. Manufactured in the UK and designed for rainwater harvesting systems.
British Engineering and Manufacture.
HydroForce™ Rainwater Harvesting Pump has been engineered by HydroForce Pumps Ltd in Peterborough, England to respond to the demand for the highest quality pump for use under water in rainwater harvesting tanks. Using the most rugged components it has been exhaustively tested for trouble-free running.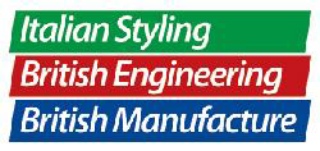 Powerful Pump & Essential Features.
The pump features a self-controlling pressure switch, dry run protection and a non-return valve. It is suitable for total immersion in tank water or it can be externally connected to the tank above ground.
The Series 4 will deliver up to 3.5 bar (household pressure is around 2.5-4.0 bar). If connected to a hose or tap, the pump will automatically start to pump water when the tap or hose is turned on. The pump delivers over 2500 litres per hour using a 1″ connector and uses 800 watts at 220-240v AC delivered by a 5 metre cable.
The exterior bodywork is an Italian-styled shape which is stable in the floor of a water tank. The pump and electrics are totally new, engineered to give more reliable underwater performance. Now an alloy bulkhead, pressure release gap and twin chamber design prevent ingress of water to motor, electrical components and to bearing oil.
At the factory in Peterborough each pump is tested individually, pumping water through a pre-determined cycle to ensure performance is to spec, and the performance of each pump is automatically logged against its bar code number to assure the client of its quality.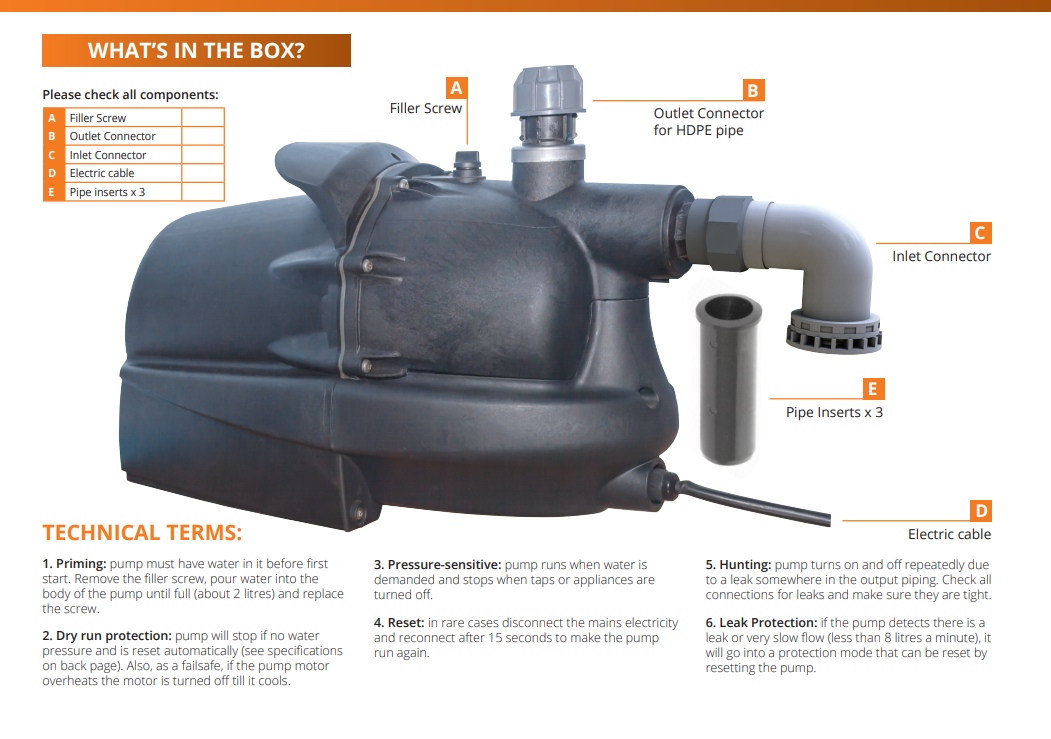 The HydroForce™ Series 4 is an electronically-controlled, pressure-sensitive, submersible, centrifugal roto-dynamic pump with no reciprocating parts.
Pressure-sensitive (demand) pump switches on and runs when there is a demand for water.
Max head (nominal) 35 metres, pump pressure (nominal) at outlet 3.5 bar, max. suction 3 metres
Dry-run Protection: when no water is detected for 8 seconds, the pump is turned off by the printed circuit board (PCB) in order to protect the motor and pump from burning out. Automatic reset after a period of 10 minutes. If water is still not detected, subsequent reset periods are 1.5 hours, 3 hours, 6 hours, 12 hours, 24 hours then back to the beginning of the cycle. Additionally, a thermal switch, not connected to the PCB, turns the pump off if motor overheats. It resets when cool which make take several hours.
Alloy bulkhead, pressure release gap and twin chamber design prevents ingress of water to motor, electrical components and to bearing oil.
Double bearing seal prevents egress of bearing oil.
Alloy bulkhead dissipates motor heat to water in the second chamber.
Logic processors in PCB prevent other pump anomalies and permit factory programming of reset timings.
Inlet strainer and output pipe connector are factory-fitted and the seals tested to ensure proper running of the pump.
Guaranteed for 2 years.
Electricity consumption 800 watts at 220-240 Volts AC 50 Hz (requires 10 or 13 amp fuse and RCD mains socket). Connection cable 5m H07RN-F.
Inlet port to the non-removable filter 1 inch (25mm) female BSP. Output port 1 inch (25mm) female BSP provided with push-fit connector for 1 inch (25mm) MDPE pipe (1 ¼ inch (32mm) connector option by special order).
Dimensions L 565 W 185 H 260 mm, weight 13.1 kgs
High-quality image-based instruction manual
Carrier Shipments
This product unless delivered with a larger order is delivered by a parcel carrier. Most items are normally in stock and shipped out on a next day service providing the order is received by midday.