£306.20 Ex VAT
Rainwater Harvesting Filter Optimax-Pro. This is our preferred filter for the Graf Carat and Rondus tanks and it's self-cleaning. The filter combines an extremely low height offset of just 165mm, filter mesh of 0.35 mm and a water yield of over 95%
Email to a friend
Description
Rainwater Harvesting Filter Optimax-Pro. This is our preferred filter for the Graf Carat and Rondus tanks and it's self-cleaning. The filter combines an extremely low height offset of just 165mm, filter mesh of 0.35 mm and a water yield of over 95%
It is very low in maintenance due to its patented, self-cleaning construction. There are three layers to the filter; 1) on the top is the stainless steel fine filter with a mesh of only 0.35mm (350 microns or 0.01 inches) with a very smooth upperGraf Optimax rainwater filter with dimensions surface which aids the self cleaning process, 2)a synthetic carrying surface with a diamond pattern and 3) the collector surface for micro particles. The filter can be visually checked when closed through the transparent cover, or the cover and filter can be lifted as required for further cleaning of the collector surface if required.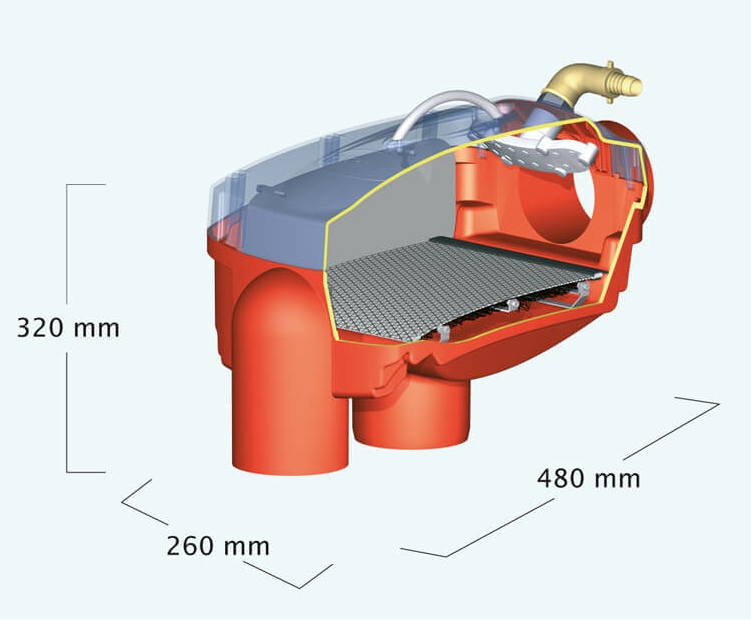 The filter can be installed in all the Graf Carat and Rondus tanks. The successor to the tried and tested Optimax-Filter has an even better water yield than its predecessor of over 95 %. The patented, self-cleaning filter insert guarantees consistent, optimal water quality. The new rainwater filter can also be equipped with the Opticlean cleaning unit if desired. The high-pressure rinsing ensures that the filter surfaces themselves remain consistently free of persistent impurities.
The main attraction of the Optimax-Pro is its compact design with a height offset of just 165 mm between the in and outlets and its convenient transparent cover. This not only ensure easy checking of the filter in its closed state – it also supports the filter insert. This means the complete unit of cover and filter insert can be removed from the filter in one easy step. Dirty clothing from checking the filter system should finally be a thing of the past.
• Over 95% water yield
• Low maintenance as it is self-cleaning
• TUV safety-tested
• Space saving filter technology
• Filter housing can be removed for tank inspection
• Transparent cover for easy maintenance
• Maximum roof surface of 350sqm
Carrier Shipments
This product unless delivered with a larger order is delivered by a parcel carrier. Most items are normally in stock and shipped out on a next day service providing the order is received by midday.